Recently, due to having lots of extra time at work(read: extreme boredom) I've been working my way through all the discussion here(currently on page 46ish) and I must say it is extremely entertaining, informative, and confusing lol. There is so much information, about the same topics, sometimes being unable to decipher what is actually true, what is personal opinion, and what is just random things that have started and kept going.
One thing I came across is the Rite of Humility. I have heard of His Grace Bishop David speak of the Rite of Humility being when the celebrant priest does a metania in front of God, his brothers the priests, the people, and any relics in the church to take their permission and blessings to start the prayer and bless the people.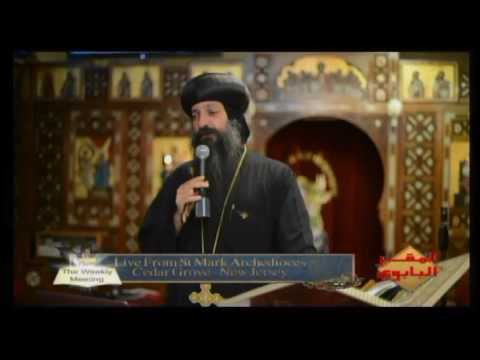 (This is the video where he talks about the Rite of Humility specifically but I do recommend the whole series, it just gets kinda confusing to follow the series because the videos on youtube are neither titled correctly nor numbered and I don't even think the dates in the names of each video are correct lol. His Grace gives a lot of great and enlightening info but like I said above, some of it contradicts what is said with many posts here.)
Now in a thread I was reading(
http://tasbeha.org/community/index.php?p=/discussion/13201/who-wears-the-badrasheel
) the last post talks about the Rite of Humility also, being all the ranks of priests and deacons(and bishops) move down one rank when a bishop(or the pope) is present due to humility. Can someone discuss this a little more? Maybe give some sources or examples? I know the highest rank(bishop over priest, pope over bishop) is the one to always be the celebrant priest/bishop but how does this work with deacons?
Thanks in advance and Happy Fourth of July!
* * * *
* * * * * *
IIIIIIIIIIIIIIIIIIIIIIIIIIII
IIIIIIIIIIIII

* * * * * * * * * *
*
* * * * * * * * *
IIIIIIIIIIIIIIIIIIIIIIIIIIII
IIIIIIIIIIIII

*
* * * * * * * * *

*
* * * * * * * * *
IIIIIIIIIIIIIIIIIIIIIIIIIIII
IIIIIIIIIIIII
IIIIIIIIIIIIIIIIIIIIIIIIIIIIIIIIIIIIIIIIIIIIIIIIIIIIIIIIII
IIIIIIIIIIIIII

IIIIIIIIIIIIIIIIIIIIIIIIIIIIIIIIIIIIIIIIIIIIIIIIIIIIIIIIII
IIIIIIIIIIIIII

IIIIIIIIIIIIIIIIIIIIIIIIIIIIIIIIIIIIIIIIIIIIIIIIIIIIIIIIII
IIIIIIIIIIIIII

IIIIIIIIIIIIIIIIIIIIIIIIIIIIIIIIIIIIIIIIIIIIIIIIIIIIIIIIII
IIIIIIIIIIIIII
'Merica