On October 20, 2018, Nader Anise presented the idea of Global Coptic Day to His Grace Bishop Youssef, Bishop of the Southern United States. It was approved and enthusiastically endorsed by His Grace, so much so that Nader was in Egypt exactly one month later, presenting the idea to bishops of the Holy Synod — and even to His Holiness Pope Tawadros himself — at the St. Bishoy Monastery in Wadi El Natroun.
After spending a full hour with the honored bishops and an additional ten minutes privately with His Holiness Pope Tawadros, the idea received resounding approval by all parties and Global Coptic Day was born.
During Nader's stay in Egypt, he and His Grace Bishop Youssef presented His Holiness Pope Tawadros with an icon of the Holy Family's Flight to Egypt, symbolic of Global Coptic Day. The icon was created by the prominent iconographer Osama Moris and presented to His Holiness of Nov. 25, 2018.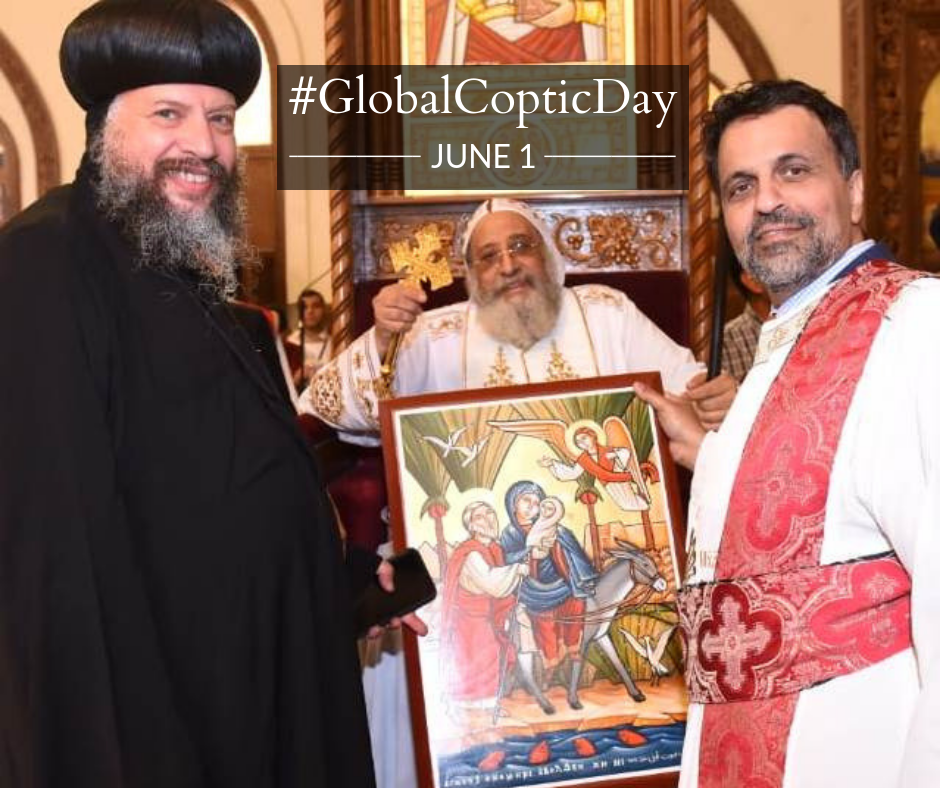 Global Coptic Day is an annual celebration of the contributions made by the Coptic Orthodox Church over many centuries. But is it also a day for members of the church to "P.R.A.I.S.E." (see the page on CELEBRATING).
We hope to reach Copts and non-Copts alike and introduce this ancient, apostolic, Orthodox Church to the world.
All participants are asked to use the hashtag #GlobalCopticDay in all social media posts.
Worldwide ambassadors are wanted. To be a Global Coptic Day Ambassador, email [email protected] with your name, age, church, and city/state/territory/country.